I made it my mission to find the best bottles for colic and reflux once I realized they were causing my firstborn pain. Seeing my daughter crying constantly the very first week she was alive was an awful experience. One day while feeding her I saw her formula bubble back up in her throat with my own eyes. It stopped her crying by gagging her, and as soon as it went back down her throat, she screamed bloody murder. Determined to ease her discomfort, I researched every single product I needed to use, including the best baby bottles for newborns with infant reflux.
From my research, I found that using the right high-quality bottle can help with a host of baby pains such as colic, gas, reflux, spit-up, and hiccups! All of these conditions are related, of course, and boil down to one thing: too much air getting into your baby's tummy.
There are several bottles on the market that specifically claim to help babies with colic. But will "anti-colic" bottles also help with reflux? They can, because air in the stomach is a contributing factor to reflux. But first, let's understand what colic and reflux are, and what bottle features can cause them to happen in the first place.
This post may contain affiliate links. If you make a purchase after clicking one, I may receive a small commission at no cost to you.
What Causes Colic and Infant Reflux?
Colic is still a bit of a mystery to health professionals. Really, it's just a term to refer to a baby crying nearly constantly without one specific "cure" for their discomfort. These frequent, inconsolable bouts of crying affect 1 in 5 babies. Colic often seems to resolve itself by the time the baby is three months old, but there's no proven reason as to why. Many people believe it's just because their digestive systems have finally developed enough to better handle gas and airflow.
There are a number of theories as to what actually causes colic, including:
Overstimulated senses (including the stress of caretakers)
Immature digestive system, gas, or unbalanced bacteria
Food allergies or sensitivities
Overfeeding, underfeeding, or lack of burping
Exposure to secondhand smoke
Infant form of migraine
Acid reflux
Reflux refers to the event of food backing up from the baby's stomach. Sometimes this is evident in the form of spit-up, but sometimes it stays in the baby's throat. This is known as "silent" reflux. Both types of reflux can happen to the same baby (they did to my daughter – she was also a world-class spit-up machine).
Some babies grow out of reflux issues quickly, but for others, it can last all the way up to 18 months old. That's a long time to be in pain every time you eat, so it's important to use the right bottle to help prevent the pain in the first place!
The type of bottle you use can be a major factor in causing (or reducing) colic or reflux in your baby. Some bottles create too much air in breast milk or formula as it passes through the nipple. This fills the tummy too quickly and also makes digestion uncomfortable or painful as the air travels through the digestive system.
So what can you do to help relieve your baby's colic or reflux right now, without medication?
Air-Free Bottles are the Solution
The best baby bottles for colic and reflux are air-free bottles! They are specifically designed to reduce the amount of air that gets in formula or breastmilk.
Some bottles help with airflow by having an angled shape for easy flow. But the best bottles for reflux and colic also have either a vent system or a positive pressure flow that mimics breastfeeding and almost completely prevents air from passing through the nipple.
One thing to keep in mind, though, is that even if you're using air-free or anti-colic bottles, you should still burp your baby with every feeding. Even the best bottle can't prevent all air from entering your baby's mouth, especially if she pulls off and relatches frequently. For babies particularly prone to gas or spit-up, you'll want to burp halfway through feedings as well (or even every ounce for a particularly spitty newborn).
Best Air-Free Baby Bottles
I've rounded up every bottle I could find that has a claim to prevent colic and/or reflux and dug deep into the features and customer reviews to help you make the best choice for your baby. There are a LOT more anti-colic bottles on the market, but I used some fairly strict criterium to whittle the list down. But remember, there is no single "best" bottle for all babies because every baby is different!
The bottles below ALL:
Have at least 150 Amazon reviews and a 3.9+ star rating
Can be used from birth
Come in both a newborn size (less than 6 ounces) and a larger size (up to 9 ounces)
Are BPA-free
Can be put in the dishwasher (because time is precious!)
These bottles are listed in order of the highest overall Amazon rating first, and there is a "best for" list at the bottom that can help you choose based on your #1 most important criterium (like which one is the most breastfeeding-friendly).
Jump to the bottle you want to know more about:
---
Comotomo Baby Bottle Review
Comotomo bottles are the Teslas of baby bottles. They have a modern, sleek design and very closely mimic the natural breast. The nipple is very rounded and large – even larger than Tommee Tippee's – to make it easy for breastfed babies to transition to the bottle. It also has two anti-colic vents to help reduce airflow no matter how the bottle is held.
By far the most unique part of this bottle, though, is the material of the bottle itself. It's made of soft, pliable silicone that's intended to feel more soothing to your baby than hard plastic or glass. The flexibility and wide mouth also make it easy to clean.
Number of Parts (without cap): only 3
Available Colors: green, pink
Current Amazon Rating: 4.5 stars
Bright Color Mom Score: 9/10
For many of you, the price point alone will knock it off your list of contenders. But if you can afford them, Comotomo bottles are hands-down the best bottle in design, ease of cleaning, transitioning from breastfeeding, and reduction of airflow in milk.
Check Price on Comotomo Bottles
---
Boon NURSH Silicone Pouch Baby Bottle Review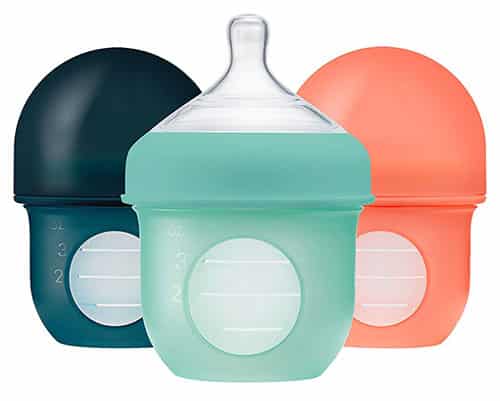 Boon NURSH bottles also take advantage of the soft flexibility of silicone. Their main edge over Comotomo is the price point – roughly half its competitor's. Sleeved in a plastic cover, the silicone pouches aren't really about having a soft feel. The "liner" collapses as baby drinks, creating a truly air-free experience (no valves on this bad boy). Basically, these are reusable drop-in liners.
If your baby forms a love connection with the Boon NURSH bottles, you can also purchase separate sippy spouts to help your baby wean to cups!
Number of Parts (without cap): 4
Available Colors: blue and green; clear and gray; pink and purple; salmon, mint, and navy
Current Amazon Rating: 4.5 stars
Bright Color Mom Score: 7/10
Leaking is not a hassle any mom should have to deal with, and sometimes you have to be careful with these bottles to prevent the silicone from pulling out of the rim. But the stiff nipple isn't a big negative to me – my daughter seemed to prefer the firmer ones over the soft ones.
Check Price on Boon NURSH Bottles
---
MAM Anti-Reflux Bottles for Breastfed Babies Review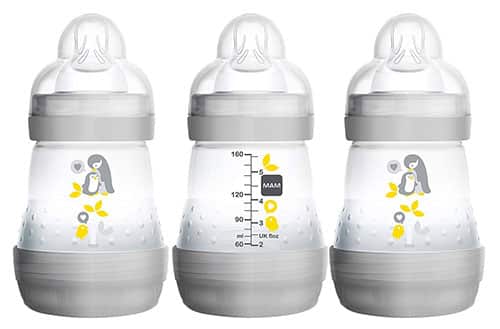 Ten points to MAM for style alone! These modern-looking bottles have a completely new way of venting to prevent colic and spit-up. The nipples are smaller than others touted as breast-friendly, but babies don't seem to be complaining about that. The vent system is built into the bottom of the bottle instead of the lid or nipple, which is revolutionary to bottle feeding.
These bottles are arguably easier to clean with the extra part because you don't need a bottle brush or small hand to reach the bottom – just unscrew it! These bottles are one of the newest on the list, and moms are loving them. Plus, look how adorable they are!
Number of Parts (without cap): 4
Available Colors: grey, yellow, blue, pink
Current Amazon Rating: 4.5 stars
Bright Color Mom Score: 10/10
These inch past Comotomo in my rating system thanks to their price point, which was $5 less per bottle than Comotomo at the time of review.
Check Price on MAM Anti-Reflux Bottles
---
Evenflo Glass Premium Proflo Vented Plus Bottle Review
The only bottle more environmentally-friendly than a silicone was is a glass one – and these also happen to be killer at reducing airflow through the nipple. Like many other bottles in this list, the Evenflo Proflo nipples have the anti-colic vent built in. The standard neck width will also fit onto most breast pumps. The ounce markers are also molded into the glass, so you don't have to worry about printed markers rubbing off. Evenflo glass bottles also have a uniquely molded twist design that allows a comfortable grip.
Number of Parts (without cap): only 3
Available Colors: none – just clear glass
Current Amazon Rating: 4.5 stars
Bright Color Mom Score: 9/10
The price on these is AMAZING, and I love the idea of a retro, environmentally-friendly glass bottle. But if your baby is learning to hold her own bottle, or you like to use electric bottle warmers, these might not be right for you.
Check Price on Evenflo Proflo Glass Bottles
---
Tommee Tippee Closer to Nature Bottles Review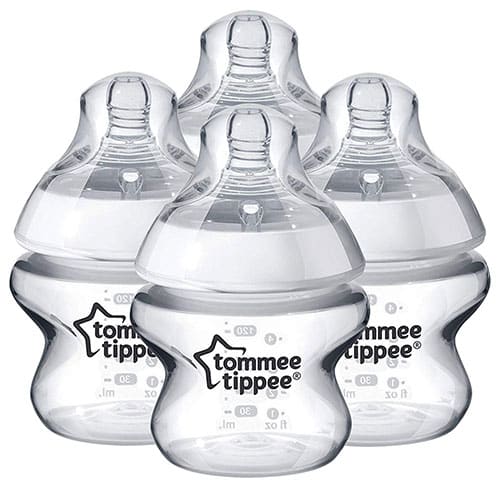 The Tommee Tippee Closer to Nature bottles are known for being shaped like and feeling very similar to a real breast. The long nipple encourages a natural latch and flexes as baby sucks, mimicking a real breast. There's an anti-colic valve built right into the nipple to help reduce "excessive" airflow (per the manufacturer's description). The unique shape allows it to be comfortably held from above, below, or the base.
The most unique features of the Tommee Tippee bottles are the indented sides. They make the bottles super-easy to hold for both parent and baby.
Number of Parts (without cap): only 3
Available Colors: white, teal, blue
Current Amazon Rating: 4.3 stars
Important: There's a separate line of anti-colic bottles Tommee Tippee designed specifically to compete with Dr. Brown's bottles. However, these were not included in the list because they are not highly rated due to complaints of leaking and frequent nipple collapse. As a result, I consider the Tommee Tippee Closer to Nature bottles a better overall choice for battling airflow.
Bright Color Mom Score: 7/10
These bottles are great for both bottle- and breast-fed babies and come at a great price point. However, they have some room for improvement in the overall design.
Check Price on Tommee Tippee Bottles
---
NUK Anti-Reflux Simply Natural Baby Bottle Review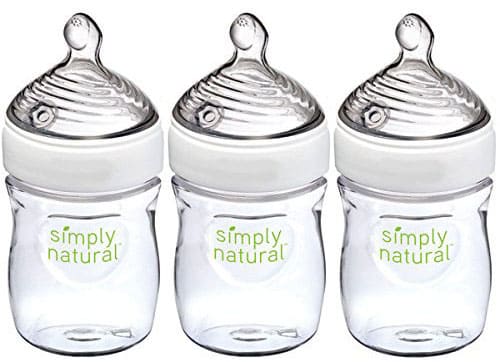 The NUK Simply Natural is a really great bottle for breastfed babies. Each nipple has multiple holes for milk flow (between 3 and 9, depending on the speed) to mimic how milk comes out of the breast. They have anti-reflux/anti-colic vents built into the nipples as well. The nipples are also very soft to help baby stay latched. The "Titan" bottle is crystal clear and resistant to odors and stains.
We struggled to find a bottle that my daughter seemed to like and actually helped with her horrible reflux. NUK nipples ended up being the key! We didn't use the Simply Natural bottles (she wasn't breastfed much) but the nipple tips on hers were the same shape as these – with a little flat spot on the bottom that sits comfortably on the tongue.
Number of Parts (without cap): only 3
Available Colors: none – just crystal clear glass
Current Amazon Rating: 4.3 stars
Bright Color Mom Score: 10/10
These are some of the most highly-rated bottles by actual moms and come at an excellent price point. They're also the same brand both of my children used. If you can't afford Comotomo, these are my next personal pick. Just be careful, the bottles are somewhat fragile.
Check Price on NUK Simply Natural Bottles
---
Playtex Baby VentAire Anti-Colic Bottle Review
The Playtex Baby VentAire Anti-Colic bottles are the only angled bottles on this list. That gives them the advantage of performing better (not perfectly) when trying to feed a baby upright. This feeding position sometimes provides relief to babies with colic, and also helps prevent ear infections (which have long been associated with babies that feed lying on their backs).
My daughter had her first (double) ear infection at 5 weeks old, so we tried these bottles out. She simply did not like them, but these nipples are soft and she preferred stiff.
Unlike the MAM bottles, there's a rubber piece that attaches to the vented bottom that must be removed for proper cleaning. So while it's easier to clean the bottle itself with the removable bottom, and the vent isn't a narrow piece like Dr. Brown's, it's still not the easiest to clean.
Number of Parts (without cap): 5
Available Colors: white, blue, pink
Current Amazon Rating: 4.2 stars
Bright Color Mom Score: 7/10
If upright feedings are a must, the Playtex Baby VentAire Anti-Colic bottles are your best choice. But for reducing spit-up or simplifying washing, there are better choices on this list.
Check Price on Playtex Ventaire Bottles
---
Joovy Boob PPSU Bottle Review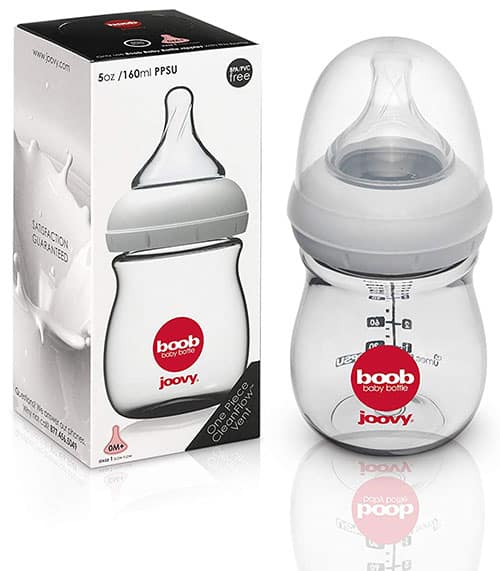 These bottles are expensive for a reason. They're made of medical-grade PPSU plastic, which won't absorb colors and odors or melt during sterilization. More durable than glass, they're virtually indestructible and won't leach dangerous chemicals into your baby's milk. It has a unique ring quad-vent that prevents nipple collapse and negative compression while keeping air out of the nipple.
Number of Parts (without cap): 4
Available Colors: grey
Current Amazon Rating: 4.2 stars
Bright Color Mom Score: 7/10
The PPSU material raises the score on this one because the price and supersized nipple aren't helping it any.
Check Price on Joovy Boob Bottles
---
Philips Avent Anti-Colic Baby Bottles Review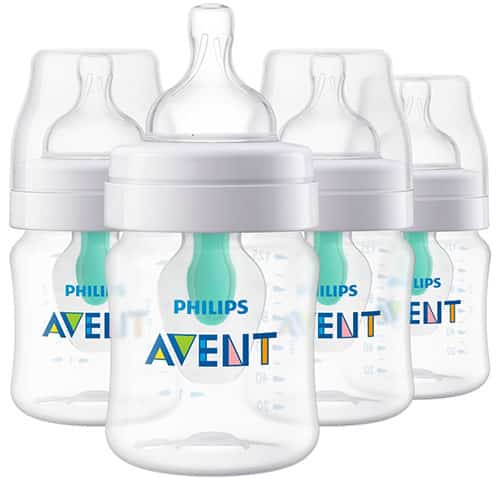 Philips Avent Anti-Colic bottles tried to replicate the success of Dr. Brown's bottles on reducing airflow while addressing two of the biggest customer complaints: the number of parts to clean, and keeping the vent clear when held horizontally for upright feedings. The vent system is somewhat similar to that of Dr. Brown's, but the vent is all in one piece. The nipple design is supposed to allow for a secure latch and prevent collapsing.
Another major difference between these bottles and Dr. Brown's is that the vent angles toward one side of the bottle, which is supposed to make it easier to hold horizontally and still keep the nipple full of milk.
My daughter didn't like the Philips Avent Natural baby bottles that have a much wider, breast-mimicking nipple, but she also never successfully breastfed. Overall, the Avent Natural bottles are rated higher than the Avent Anti-Colic bottles.
Number of Parts (without cap): 4
Available Colors: clear, pink, blue
Current Amazon Rating: 4 stars
Bright Color Mom Score: 6/10
No one wants to turn on a light in the middle of the night to make sure they're holding the bottle the right way, and babies usually aren't too keen to keep the bottle still. The design flaws, extra vent piece and price point are major cons – but at the end of the day, they DO work to reduce gas and reflux.
Check Price on Avent Anti-Colic Bottles
---
Dr. Brown's Anti-Colic Bottles Review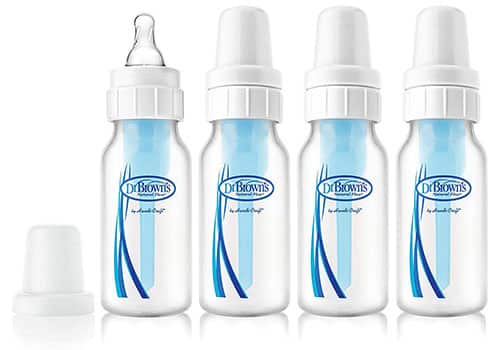 Dr. Brown's original anti-colic bottles are the OG of airflow control and beloved my social media moms everywhere. The unique vent system eliminates negative pressure and air bubbles to prevent colic, burping, gas, and spit-up. While it doesn't tout a breast-shaped nipple, it does claim to provide a vacuum-free feeding that's similar to the suction of breastfeeding. Dr. Brown's bottles even claim to retain more nutrients in the milk by reducing its oxidation.
There's really no arguing that Dr. Brown's has developed the most effective system for reducing the airflow in baby's milk, but many consider the number of parts to wash a huge downside. If you're like me and feel more comfortable hand-washing your baby's supplies, you might want to pass on these.
Number of Parts (without cap): 5
Available Colors: white and blue
Current Amazon Rating: 3.9 stars
Bright Color Mom Score: 8/10
These bottles are well-loved for a reason – they work. Yes, they're a pain to clean, but for a baby suffering from severe reflux or colic, they're worth the effort.
Check Price on Dr. Brown's Bottles
---
Which Bottle is Best for Your Baby?
The truth is, not even the most detailed reviews can help you choose the best bottle for your baby. Why? Because every baby is different. They all have different latches, sucks, and preferences. Take in all the information on these bottles you can, and choose a bottle that sounds good to YOU. And if that bottle doesn't work for your baby, that doesn't mean it's a bad bottle. It can take many, many, frustrating (and expensive!) tries to find the best bottle for your baby.
My daughter went through four bottles before agreeing to eat from one. Lucky for me, the winner for her ended up being a slam-dunk the first try for my son!
So, considering the features most important to YOU, let's take a look at what bottles might be the best to try first.
---
Does your baby suffer from colic or reflux? Have you tried any of the bottles on this list? What do you think is the best bottle for colic and reflux? Discuss in the comments!